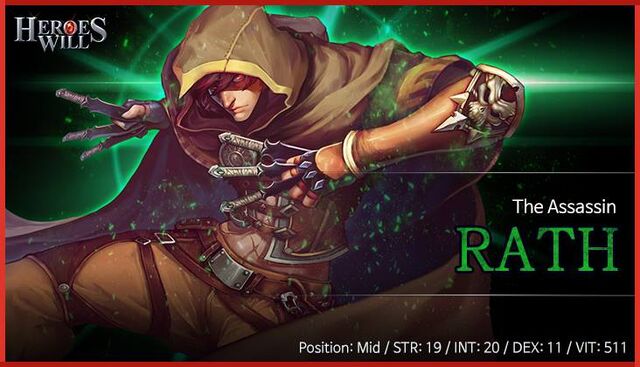 Lore
Rath is a killing machine who loves women and beer. He's an assassin who kills people by receiving requests. For some reason, he joined Allen's crew.
Special Abilities
None
Evolution Notes
Slow. There is only one source of soulstones for Rath early on, in Hero Ch.1. You need to get to Hero Ch.12 for a second source, and the road there is very, very long. 
Attributes
Base Stars: ★
Primary stat: DEX
| Evolution | STR Growth | DEX Growth | INT Growth |
| --- | --- | --- | --- |
| ★ | 2.3 | 2.7 | 1.2 |
| ★★ | ? | ? | ? |
| ★★★ | 4.1 | 5.2 | 2.8 |
| ★★★★ | 5 | 6.5 | 3.6 |
| ★★★★★ | 5.9 | 7.7 | 4.4 |
Thanks to Azrell Gnear for additional numbers.
Skills
[1] Blade of Madness [Physical]
Damage all enemies by throwing daggers swiftly. [Physical Area Attack]
[2] Triple Dagger [Physical]
Attack the enemies by throwing numerous daggers. [Physical Area Attack]
[3] Shadow Stab [Physical]
Damage the enemies with surprise attack. [Physical Area Attack]
[4] Killer Ghosts [Buff]
Increases own Physical attacking power. [Buff]
Gallery
Opinions and Tips
Rath is a damage monster. He has no tricks up his sleeve, no crowd control, nothing fancy, just tons and tons of Physical damage. Don't let his multi-target skills fool you, this guy is great in Guild Raids, 
4-star Rath definitely has a place in a 5-star Guild Raid team, he's that good
. He's also strong against some opponents in Event Battle.
Opinion by AzakaZero
Ad blocker interference detected!
Wikia is a free-to-use site that makes money from advertising. We have a modified experience for viewers using ad blockers

Wikia is not accessible if you've made further modifications. Remove the custom ad blocker rule(s) and the page will load as expected.